Condenser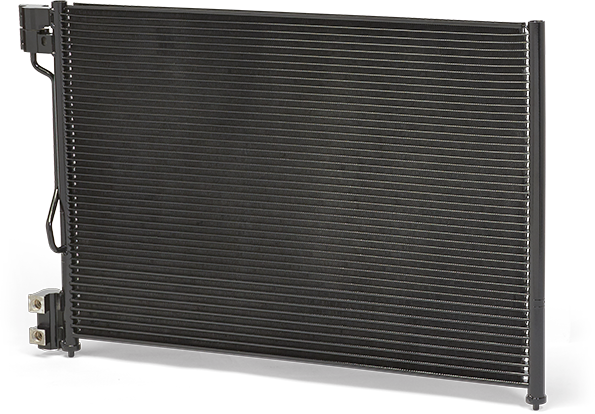 The condenser is located in the front of the vehicle between the radiator and the front grille as part of the climate control (or air conditioning) system. Like a radiator, the condenser uses the properties of the airflow of the moving vehicle to cool down the coolant that serves to lower the temperature of the passenger compartment.
Condensers are nitrogen leak-tested to ensure being leak-free and damage-free
High-density fins designed for maximum cooling efficiency
Manufactured with heavy gauge mounting brackets to reduce movement and vibration
Manufactured with precise mounting holes and brackets to ensure ease of installation
OE design to ensure exact fit, form and function for an easy drop-in installation
Condenser with welded receiver-drier also available
Spectra Premium Condensers use multi-flow tubes from 10 to 18 passages for higher efficiency

North American Aftermarket Vehicles in Operation Coverage
Most Common Condenser Products
Spectra Part Number
Most Popular Applications
North American VIO
7-4953
14-02 Cadillac Escalade All
13-07 Chevrolet Avalanche All
06-02 Chevrolet Avalanche 1500 All
06-02 Chevrolet Avalanche 2500 All
13-07 Chevrolet Cheyenne All
14,514,301
7-4721
00-99 Cadillac Escalade All
99-94 Chevrolet C1500 All
00-94 Chevrolet C2500 All
02-94 Chevrolet C3500 All
99-94 Chevrolet K1500 All
3,171,488
7-4283
18-15 Cadillac Escalade All
18-15 Cadillac Escalade ESV All
15-14 Chevrolet Cheyenne (V8 5.3L)
18-14 Chevrolet Silverado 1500 (V8 5.3L)
18-14 Chevrolet Silverado 1500 (V8 6.2L)
2,464,908
7-4883
05-00 Ford Excursion All
04-99 Ford F53 (V10 6.8L)
07-06 Ford F53 (V10 6.8L)
06-04 Ford F-250 Super Duty
2,645,219
7-3657
10-06 Dodge Ram 2500 (L6 5.9L)
09-07 Dodge Ram 2500 (L6 6.7L)
09-07 Dodge Ram 3500 (L6 6.7L)
09-08 Dodge Ram 4500 (L6 6.7L)
09-08 Dodge Ram 5500 (L6 6.7L)
363,219
Common Condenser Failure Symptoms
Reduced cooling
Leaking coolant
Deposits in the coolant
Reducing coolant level
Common Causes of Failure
Collision
As a front-end part, condensers are often involved in collisions. Even if the initial impact does not damage the part, smaller leaks in the cooling system can be found afterwards which also warrants radiator replacement.
Other common causes
Lack of maintenance
Overheating
Normal wear and tear
Refrigerant Leak
Road debris
Compressor failure
Parallel flow condensers are susceptible to severe internal blockage after a compressor failure. When the compressor fails, always include a Spectra Premium condenser to ensure complete repair.
The climate control system will not work if the condenser is defective or leaking.
Replacement Importance
Climate control is not critical to the operation of a vehicle, but the air conditioning system is important for the passengers' comfort, particularly during hot summer periods. Air conditioning failure does not impact passenger heating, since the heater is actually part of the cooling system.