AC Accumulator-Drier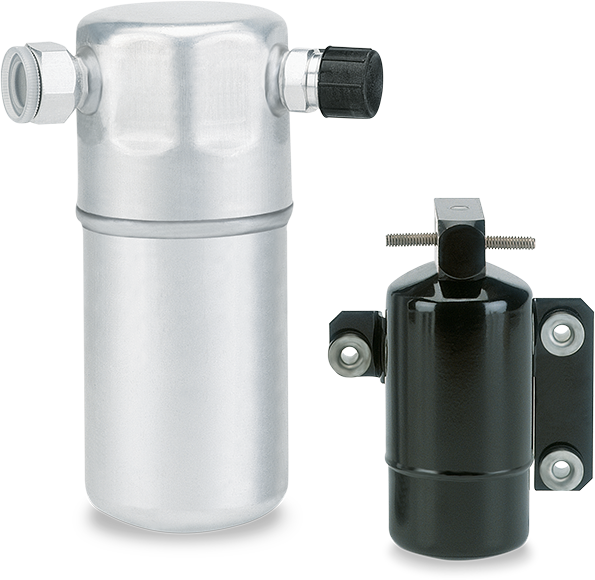 As part of the air conditioning system, the AC accumulator-drier transforms liquid refrigerant from the evaporator into gas form (without refrigerant oil and debris) to the AC compressor.
All compressor applications have a matching accumulator-drier
Every unit is performance-tested
Transit tested with robust packaging to shield part from damage in shipping
Meet or exceed OE specifications for fit, form, and function
Spectra Premium offers a matching compressor for each AC Accumulator application

Most Common AC Accumulator-Drier Products
Spectra Part Number
Most Popular Applications
North American VIO
0283208
06-02 Cadillac Escalade
06-02Chevrolet Avalanche 1500
06-02 Chevrolet Avalanche 2500
06-99 Chevrolet Silverado 1500
7,352,336
0210076
10-03 Cadillac CTS
08-99 Chevrolet Tracker
15-08 Honda Civic
16-02 Honda CR-V
05-00 Toyota Echo
5,515,539
0210018
11-06 Acura CSX
12-03 Honda Accord
11-06 Honda Civic
15-12 Honda Crosstour
14-09 Honda Fit
4,855,761
0210024
09-02 Dodge Ram 1500
09-02 Dodge Ram 2500
09-02 Dodge Ram 3500
06-05 Dodge Ram 4000
09-08 Dodge Ram 4500
2,408,021
0210136
12-08 Ford Escape
11-08 Mazda Tribute
11-08 Mercury Mariner
1,243,572
Common Accumulator-Drier Failure Symptoms
Ratting noise when the AC is turned on
Hose loose or suffered damage
Refrigerant leaks
Mold build up causing smell
Common Causes of Failure
Moisture in the climate control system is the main cause of failure for the AC Accumulator and driers, as well as any component of the system itself. Water will mix with the refrigerant and turn it into acid, which will rust and corrode the metallic components of the AC Accumulator-Drier. The corrosion or blockages will then lead to refrigerant leaks that render the part ineffective.
Every time the car is open for service the filter needs to be changed.
You must change the accumulator-drier when changing the AC compressor.