October 27, 2022
Josh Gordon's promotion to CEO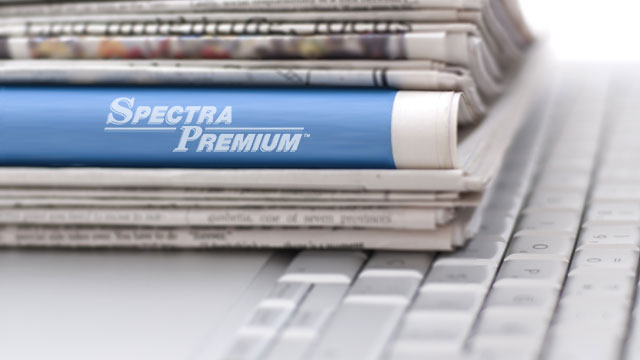 SPECTRA PREMIUM ANNOUNCES JOSH GORDON'S PROMOTION TO CEO, ALONG WITH ADDITION OF OTHER KEY TEAM MEMBERS
BOUCHERVILLE, QC – October 27, 2022 – Spectra Premium Mobility Solutions ("Spectra Premium" or the "Company"), is pleased to announce that Josh Gordon, who was previously President and COO of Spectra, has been appointed as President and Chief Executive Officer effective immediately.
Josh joined Spectra in November 2021 and brings a wealth of experience in the automotive industry, with previous leadership roles at Fram Group and Old World Industries, as well as a rich commercial background in consumer products.
Denis Chabot, Spectra's previous CEO is retiring but will remain closely involved with Spectra as a board member and senior advisor.
"We are excited about all the positive momentum at Spectra Premium, which continues with the appointment of Josh as the new CEO. Josh is a proven leader in the industry, and we are confident that he will drive Spectra's future success," said Ilya Koffman, Chairman of the Board at Spectra Premium Mobility Solutions. "We would also like to thank Denis for all his contributions to Spectra Premium and look forward to continuing to work with him in his role as a member of the board of directors."
"Josh is the perfect person to lead Spectra forward. He has the right combination of experience, leadership, and temperament to realize Spectra's full potential." said Denis Chabot. "I am excited to continue my engagement with this great team and this great business."
Josh will be leading the business transformation that started last November upon Spectra's acquisition by Turnspire Capital Partners. " Spectra Premium's primary objectives are to optimize our unique North American manufacturing capabilities, as well as our superior engineering expertise, to reduce supply chain risks and grow product categories for our valued customers " confirmed Josh Gordon. "With a healthy balance sheet, we have invested in improved service levels through inventory availability, production improvements and talent upgrades in key positions, all of which will enable us to serve our current and future aftermarket and OE customers."
In addition to changes in executive leadership, new talent has been added to the Aftermarket and OE teams in recent weeks. Each of these new members will bring a fresh perspective to the team as well as further expertise and experience that will strengthen Spectra's value proposition. Below are a few of the exciting additions:
Erich Schmidt – Sr. Director, Aftermarket Sales
Simon Weallans – Sr. Director, OE Sales
Jessica Hyde – Marketing Director
Scott Nash – Category and Product Management Director
Spectra Premium will continue to be a trusted partner in providing heat transfer, undercar, engine management and metal fabrication solutions that exceed the expectations of the market. Spectra's has unique capabilities as a North American manufacturer as well as a management team and dedicated employees that are working together to deliver the same OE quality parts and category expertise that have made Spectra Premium a market leader.
---