Heavy Duty Condenser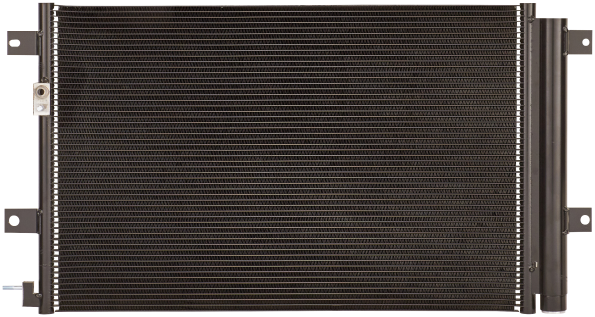 The heavy-duty condenser is located at the front of the vehicle between the radiator and the front grille as part of the climate control (or air conditioning) system. Like a radiator, the cooling properties of the airflow chills the coolant moving through the condenser which then lowers the temperature of the passenger compartment.
Unit is nitrogen leak-tested after production to ensure product is free from leaks or damage
High-density fins designed for maximum cooling efficiency
Manufactured with heavy gauge mounting brackets to reduce movement and vibration
Manufactured with precise mounting holes and brackets to ensure ease of installation
OE design to ensure exact fit, form and function for an easy drop-in installation
Provide lasting comfort to truck drivers with easy and durable heavy-duty condenser repair

Most Common Heavy Duty Condenser Products
Spectra Part Number
Most Popular Applications
7-9120
09-03 Chevrolet C4500 Kodiak
09-03 Chevrolet C5500 Kodiak
09-03 Chevrolet C6500 Kodiak
07-03 GMC C4500 Topkick
08-05 Isuzu HTR

7-9055
04 International 3200
06 International 3200
97 International 3800
09-07 International 4100
07-04 International 4200

7-9128
08-07 Chevrolet W3500 Tiltmaster
10-07 Chevrolet W4500 Tiltmaster
09-07 Chevrolet W5500HD Tiltmaster
08-07 GMC W3500 Forward
15-13 Isuzu NPR (L4 3.0L)

7-9070
13-12 Freightliner 114SD
16-08 Freightliner Cascadia
11-08 Freightliner Century Class
10-08 Sterling Truck A9500
15-12 Western Star 4700

7-9053
02 International 2674
90 International 3700
06-03 International 5500i
06-03 International 5600i
06 International 5900i SBA

Common Heavy Duty Condenser Failure Symptoms
Reduced cooling
Leaking coolant
Deposits in the coolant
Reducing coolant level
Common Causes of Failure
Collision
As a front-end part, condensers are often involved in collisions. Even if the initial impact does not damage the part, smaller leaks in the cooling system can be found afterwards which also warrants radiator replacement.
Other common causes
Lack of maintenance
Overheating
Normal wear and tear
Refrigerant Leak
Road debris
Compressor failure
The complete climate control system depends on the condenser's integrity to function.